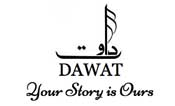 ---
YOUR STORY IS OURS
DAWAT is an event management, PR, catering and photography company located in Karachi, Pakistan. We specialize in weddings, parties, corporate events and much more. We use our expertise to create powerful impressions in all of our endeavors, to make your event leave a lasting impression for years to come. We are able to provide a variety of different services, following an easy and efficient 3 tier system, to maximize productivity and results. Our experienced team is instilled with values of integrity, trust, dedication and most importantly a love for what we do. Let us make your next event everything you dream of and more.
OUR MISSION
DAWAT's mission is to provide clients with our 100% commitment to customer satisfaction. What differentiates us from other businesses is our ability to create new and exciting concepts that enhance your event experience, allowing each event to be unique and personalized. Every team member of ours fully believes in DAWAT's mission and works hard toward achieving it by making your satisfaction our number one priority.

OUR VISION
DAWAT's vision is to constantly develop new and innovative ways to service our clientele better and train our enthusiastic team to their maximum potential. In this way we can continue to lead in all aspects of hospitality and innovation. We thrive to lead the event management industry by being proactive and having a constant hunger for new developments in the field.
EVENT MANAGEMENT DIPLOMA WITH DAWAT
DAWAT and Lecole will be offering an Event Management Diploma- Level 1, Level 2 and Level 3 certifications for students. This will be the first certified event management diploma program in Karachi and will be a great opportunity for individuals to become certified event managers and a great start to their career.

Apply Now!
http://undergrad.lecole.edu.pk/dem-admission-form/

To learn more about the program click below!
http://undergrad.lecole.edu.pk/diploma-in-event-management/
---
Business Hours: Monday-Saturday 12-8pm | Sunday appointments only | Inquiries accepted 24 hours at 0321-788-8061 or email us at info@dawatpk.com.

Services: Complete wedding planning, event management and catering services

Dawat specializes in the following services:
·

Full Service Event Management

·

Venue Arrangements

·

Decor

·

Catering

·

Photograph/Videography

·

Flowers & Stage

·

PR and Brand Marketing

·

DJ and Dance Floor

·

Stages and Set Designs

·

Valet and Security

·

Destination Weddings

·

LED Lighting and Sound System

·

Lighting & Sound
Ambiance: Professional & Friendly

Availability: Call for current date availability.

Parking: Street, Parking Lot & Valet

Payments Accepted: Checks & Cash

Nearest Landmark or Cross Street: Please call directions.

What To Expect: A professional and experienced company specializing in upscale wedding planning event management and catering.
---