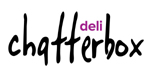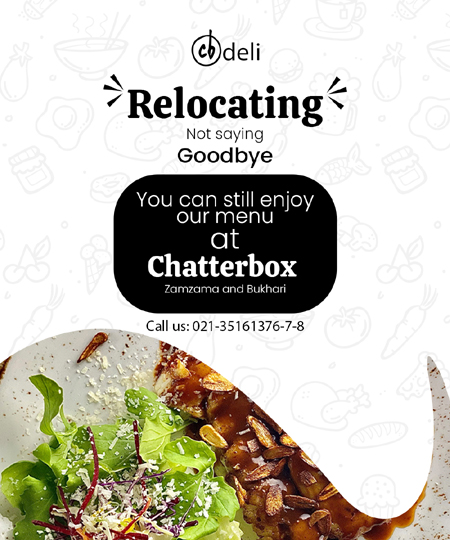 ---
Introducing rustic elegance and sophistication in the heart of Karachi's upscale shopping and dining district. Pie in the Sky and Chatterbox present their latest addition, Chatterbox Deli.
After much time and planning, Pie in the Sky finally introduces its spacious and centrally located Chatterbox Deli. The restaurant and cafe is easily accessible from many neighborhoods and also working folks, for an enjoyable meal anytime of the day with loved ones, family and friends.
Spruce up your day with a fresh and relaxing atmosphere, friendly faces, upbeat energy and high quality cuisine and desserts. Experience a little excitement in a sophisticated metropolitan style atmosphere - polished wood, modern glass and sparkling lights, coupled with delectable culinary and patisserie offerings. Unique and festive table decor is a signature of the Chatterbox Deli.
THE SAME CHATTERBOX QUALITY
Chatterbox has maintained exceptionally high standards in their service and products, and that stays true in their newest addition, Chatterbox Deli. In addition to their much loved patisseries throughout the city, delightful cafes and their exceptional restaurant Aztec, they bring to you their very special Chatterbox Deli. An eatery that is the realization of a very long wish list.
CHATTERBOX DELI CATERS TO...
• Professionals who want to enjoy a quick walk-in salad and sandwich bar
• A small dining café that caters to the most discerning pallets
• Ready to take-away meals for the most busy clientele
• A small dream-like corner for those who appreciate their dining rooms with best of table accessories, an elegant ambiance and privacy
CHATTERBOX DELI SPECIALTIES
• Sandwich Bar - Ready-made sandwiches made with in-house baked bread and delectable meats and dressings
• Sweets - Made from the finest imported ingredients, enjoy our desserts for dine-in or take-away
• Traditional & Wholesome Breads including variety of breads including Focaccia, Brioche, Ciabatta, French Bread and many more
• A Retail Section where you can buy the best of our CB jams, jellies, marmalades, cottage cheese, honey, almond milk, quinoa, oils, granola and more.
• The Cafe offers homemade pasta, roast chicken and delicious char-grilled meats in addition to daily specials.
• Tableware & Gifts - Tablemats, bowls, ceramic pitchers, other artisanal ceramics and linen to add that perfect panache to your table settings

The great news is the Chatterbox Deli is all that and more, and all set for welcoming spring to Karachi. Chatterbox Deli looks forward to serving you soon!
---
---
Business Hours: Sunday to Thursday Open at 8:00 AM Close at 11:00 PM
Friday and Saturday Open at 8:00 AM Close at 12:00 PM
A few highlights from the menu:
·
Roast Chicken with Dates and Olives

·
Snapper with Crispy Capers and Nori
·
Korean Chicken Sliders
·
Greek Yogurt with Vegetables

·
Homemade Ravioli
·
Deli Poke Bowl & Chicken Rice Bowl
·
Snapper with Harissa

·
Thai Roast Beef
Accepts Credit Cards: Yes
Ambience: Rustic, Fresh & Sophisticated
Private Dining Room: Yes
Parking: Roadside and valet parking available
Breakfast: Yes, with a special breakfast menu
Sunday Brunch: Yes
Business Lunch: Yes
Special Party Facilities: Available upon request
Outdoor Seating: No
Reservations: Accepted
Take-Out: Yes
Delivery: Coming Soon!
Catering: We do offer catering, specialized and customized salads and cakes and set menus for corporate and private gatherings.
Smoking: Not allowed
Children Policy: Allowed
Wheelchair Accessible: Stairs are not very high and the staff will be able to help the wheel chair so that it can be brought inside.
Wi-Fi: Yes
Gift Cards: Yes
Nearest Landmark/Cross Street: Pie in the sky at the corner of main Badar Road
What to Expect: High quality cuisine in a fresh, rustic and relaxing atmosphere with friendly service. Also, diningware, food items and gifts on display for purchase.
---
---