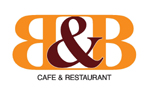 ---
CAFE & RESTAURANT
Originally opened in Dubai 10 years ago, B&B is proud to introduce its first branch in Karachi (officially opening on December 21st, 2018). B&B Restaurant offers an authentic taste of Desi food in an ambiance of a fine dining lounge. B&B brings together family and friends with a rich menu of Pakistani & American breakfast items including Halwa Puri, Nihari, Omelettes, Pancakes, along with lunch and dinner favorites such as BBQ, Gravies, Cool Beverages and much more. The success of the great original taste of our star dishes HALWA PURI and NIHARI encouraged us to serve them throughout the day. B&B promotes the traditional lively table conversations and authentic high quality food. Whether it's breakfast, lunch or dinner, we have something special for everyone.
MESSAGE FROM THE MANAGEMENT
We are incredibly thankful and proud to work alongside our team, who continue to work tirelessly to provide outstanding experiences for our guests, they have put in endless hours to ensure successful openings, and for the Alif Investments corporate team that collaborates and supports one another as we strive to operate the best restaurants.

We could not do what we do as a restaurant without the high level of integrity that exists throughout our company culture. We are all familiar with the phrase "integrity is what you do when no one is watching" a moral uprightness. We focus on delivering hygienic & delicious food to our customers in a refreshing environment.
---
B&B Cafe & Restaurant

Ground Floor, Plot 241/A, Block 2, PECHS
Main Shahrah-e-Quaideen.
Karachi, Pakistan.
Tel: (92-21) 3-455-1828, 3-455-1829

Business Type: Café & Restaurant
Official Website: www.bnbrestaurant.com
Facebook: www.facebook.com/bnbkhi
Instagram: BNBKHI
E-mail: karachi@bnbrestaurant.com
---
Business Hours: 8am-12am
A few highlights from the menu:
·
Omelettes

·
Halwa Puri

·
Nihari
·
Chicken Kasturi Boti
·
Beef Bihari Boti

·

Chicken Makhni Handi

·
Chilli Garlic Prawns

·

Crispy Sesame Beef

·

Chicken Manchurian with Fried Rice

·
Gajar Halwa
Accepts Credit Cards: Cash. Credit cards coming soon!
Ambience: Contemporary, Casual & Friendly
Parking: Roadside parking available
Breakfast: Yes, 7 days a week beginning at 8am
Business Lunch: Yes, can be arranged upon request
Special Party Facilities: Yes, separate areas can accommodate 20-25 people
Corporate Services: Yes, in house as well as food arrangements are offered. In house separate floor available for corporate events for 20-25 people.
Outdoor Seating:
Reservations: Yes, reservations accepted. Walk-ins also welcome.
Take-Out: Yes
Delivery: Coming Soon!
Catering: Yes, please inquire for details
Smoking: Strictly not permitted
Children Policy: Allowed
Special Services: Catering, as well as birthday and gift cakes upon request. Premium coffee beans and special facilities for events at the restaurant. Can also cater private events. For details, please call (021) 34551828-9.
Wheelchair Accessible: Yes
Wi-Fi: Yes
Nearest Landmark/Cross Street: Between AllahWala intersection and nursery flyover, main Shahra-e-Quaideen
What to Expect: High quality Pakistani cuisine and snacks in a clean, hygienic and friendly atmosphere.
---
---