Welcome to Meat One.
At Meat One, we strive to bring you the very best of free range, export quality meat. Our parent company, Al Shaheer Corporation, selects the finest animals from interior Sindh and Punjab, processes them at its facility (certified to highest international standards), and then proceeds to export to some of the largest regional markets. The animals used for export are free range, grass fed young cows; raised on natural feed on free roaming farmlands. These animals are also free from hormones and antibiotic therapies, which essentially means that their meat is free of harmful chemical residuals and contamination. In addition, our export quality meat is processed based on international hygiene standards and our state of the art abattoir is HACCP (Hazard Analysis and Critical Control Points) certified.

All our meat is fresh and kept chilled; Meat One does not freeze its meat. Leading supermarkets and hypermarkets across the Middle East stock Al Shaheer products in their stores.

Exclusively designed by the best architectural firm, our retail outlets in Karachi offer a clean, friendly environment where customers can choose from a selection of over 30 different cuts prepared by Meat One's professional butchers. Meat One along with its appointed advertising agency aims to play a pivotal role in disseminating information to educate our esteemed customers about the health benefits associated with meat.

Ensuring that our products cater to a diverse clientele and meet their needs, all local and international meat cuts, plus a full range of lean/low fat meat cuts are always available at Meat One outlets.
The free range, lean meat that Meat One offers you every day is as natural and wholesome as you can possibly imagine.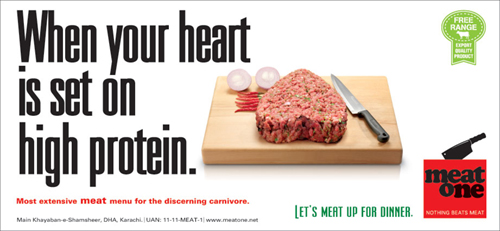 At Al Shaheer, the finest free range animals are selected and then raised on our company farms, strictly on organic food to ensure the greatest quality of meat that only experts can guarantee. Something as simple as this instantly makes the meat juicier and tender. We keep these and several other factors in mind while preparing our meat products to suit your lifestyle and taste preferences.

'Meat One' is a tailor made chain of stores dedicated to meat; a concept which is not alien to most of Karachi, but one currently based on fantasy. Allow us to make this fantasy a reality. From nurturing to slaughtering, chilling, transporting and retailing, our products have to undergo stringent quality checks each step of the way. Halal, healthy and fresh, this meat is now being made available at various locations through specially designed Meat One outlets.

Meat One is a concept meat shop, all about celebrating carnivorous yearnings. No more flailing arms like a banshee in an attempt to ward off the flies, no begums with their beautiful faces hidden behind duppattas, or worse yet contorted into ugliness due to the malodorous surroundings. Meat lovers will no longer have to worry about the dubious origins of their steak. Buying meat will no longer be the dreaded chore that is readily delegated to the errand boy, but will rather become an enjoyable weekly ritual.

Giving priority to health and hygiene, the shop is custom made, without compromising on aesthetics. The customer/s will be able to follow the whole process of meat preparation behind the glass counters and be thoroughly convinced of the quality of meat and the effort and honesty that the process entails.
Al Shaheer is one of the largest meat exporters in Pakistan. The company was created in August 2008 after observing the increase in demand of halal meat products globally. We operate a custom designed, state of the art plant, brought in from Australia with attached chillers, cold storage, transportation and hygienic lairage area and is one of the largest private slaughtering facility in the country.

Winning several international accreditations like the ISO 9001:2000 certification and the SAFE Food Award 2009 by URS for quality and hygiene, the Company has conquered the global market with a continuous commitment to quality. In 2009, Al Shaheer also won the first 'Best Export Performance' award for Fresh and Frozen Meat from the Federation of Pakistan Chamber of Commerce and Industry. The year 2010 started with a pledge to make the same quality meat available to local consumers, thereby considerably raising the benchmark in meat selling.

Starting off from our flagship Meat One outlet on main Khayaban-e-Shamsheer, DHA, Karachi, we will gradually expand our network of dedicated Meat One outlets to introduce customers to the best quality, free range meat possible.
Free Range
Most nutritional studies around the world about beef have been about American and European beef, which is raised very differently from most Pakistani beef.
Unlike the natural process of raising cattle in Pakistan, beef in developed countries comes from feed-lots, where cattle is kept cramped, fed an unnatural diet of grains and pumped full of hormones and antibiotics. The disadvantages of grain-fed, feed-lot bred beef have led distinguishing consumers in the West to prefer "free-range, grass-fed" beef.
Our selection process for our animals ensured that we get nothing but the finest free-range, grass-fed meat. We do this because there are stark differences between grain-fed and grass-fed animals as highlighted below:
Free range animals are used to produce the world's finest all-natural beef. They free from antibiotics and growth hormones and other artificial impurities.

Free-range grass-fed animals have 50% less saturated fat than their farm-fed counterparts. Likewise, beef from grass-fed animal is not greasy or laden with fat.

Nutritional scientists report that by switching to grass-fed beef you will lose weight, have a healthier heart, reduce your risk of cancer, diabetes, arthritis, and allergies, improve mental clarity, and more.
NUTRITIONAL COMPARISON BETWEEN PAKISTANI AND AUSTRALIAN BEEF
We were so confident that Pakistani beef is better than anything in developing countries that we got our meat tested for its nutritional properties and had them benchmarked against some of the best Australian meat. Our instinct was right: Pakistani beef is better.
The tests were conducted by Intertek, one of the largest testing companies in the world.
Nutrient

Nutrient content (raw)

(per 100g)

Adult Australian RDI

Australian Lean Beef

Pakistani Beef

Macronutrients

Energy (kJ)

535

1083

6.5-15.8MJ

Protein (g)

22.5

23.44

46-64

Fat (g)

4.1

3.22

-

Saturated fat (g)

1.6

-

Long chain omega-3s (mg)

68

90-160

Vitamins

Vitamin B2- Riboflavin (mg)

0.15

0.35

1.1-1.6

Vitamin B3- Niacin (mg)

4.4

3.12

14-16

Vitamin B6 (mg)

0.2

0.15

1.3-1.7

Vitamin B12 (μg)

1.1

1.1

2.4

Minerals

Sodium (mg)

51

78.64

460-920

Potassium (mg)

360

411.38

2800-3800

Iron (mg)

1.9

3.82

8-18

Zinc (mg)

3.9

6.71

8-14
Please visit us at:
Main Khayaban-e-Shamsheer
(Opposite Malaysian Consulate)
Defence, Phase 5, Karachi.

Email: info@Meat One.net

Home Delivery 8am - 11pm
● Delivery is available from Monday through Friday
● Large or specialty orders may require notice
● Minimum order is Rs. 1,500
● Delivery is limited to Clifton & Defence (Phases 1-8)
● Prices are subject to change

Orders: 021-11-11-MEAT-1