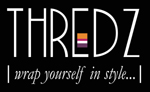 ---
Thredz, established in 2004, offers an extensive selection of colorful and inspired clothing for men, women and children, as well as home furnishings; all in a unique upscale atmosphere. All designs, which are available in casual, semi-formal and formal, are hand-woven and developed keenly by designers with uniquely aesthetic sense. The brand combines colorful and traditional prints with contemporary designs for a beautiful and quality selection of clothing and home accessories. Wrap yourself in style at Thredz.
HISTORY
Thredz began seven years ago as an idea for men's and women's casual and formal wear. The brand is now successfully running five retail boutique stores in Karachi and Lahore.
INSPIRATION
Thredz was inspired by the colors of life. It was also important that the store combine fashion with value for money goods, while offering quality and not just concept. The atmosphere is classy and trendy with an eastern fusion feel. Thredz uses their own in-house thread and the cloth is hand-woven on Khaddi. Visit a Thredz branch near you to be truly inspired and wrap yourself in style.